---
Extensions: Building Extension – Loft conversions
Whether you want a house extension, commercial building extension, loft conversion, assistance with getting building permission, brick laying, block work, roof work or any other type of building work undertaken, we can help. T G Builders GB Ltd. can undertake all general building work from managing whole construction projects to fitting bathrooms and kitchens. We service a wide area in South East England, including London, Essex, Kent and Surrey.
Our building team has decades of experience and will be able to complete any building project to the highest standards. We have undertaken a huge range of contracts from our commercial and personal clients including the following:
House extensions
Commercial building extensions
Loft conversions
Foundation work
Brickwork
Garden walls
Garden landscaping
Design and build projects
Renovations
Building Conversions
For this page, the processes involved in the creation of loft conversions will be explained to help inform the customer should they wish to hire our loft conversions services. From the start, a newly built loft will usually be dark and hot during the Summer. The first thing to do is to increase the amount of light entering into the loft as well as disperse the heat within the loft as well as generally improve air circulation. To do this, parts of the loft walls are removed to allow Velux windows to be inserted (see Fig.1):
Fig.1: Velux windows inserted into loft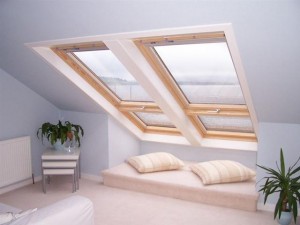 After this is done, long pieces of steel beams (called Rolled Steel Joists or RSJs which are commonly found in construction sites) are taken to the loft area by use of a crane so that the RSJs could be used as structural supports for the new loft floors and the loft roof's ridge (the ridge being the horizontal line formed from where the two diagonally sloping surfaces meet to make peak of a roof).
Fig.2: An example of an RSJ:                               Fig.3: An example of RSJ inserted into the roof's ridge: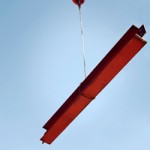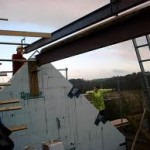 Fig.4: Shows RSJs inserted into the floor and connected to other materials to form a strong cross linking network that provides support for the new loft flooring to be placed above it: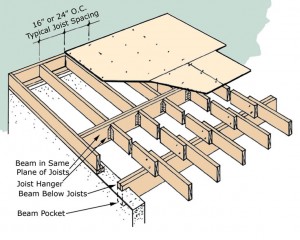 We provide quality workmanship at competitive prices. The simple reason for this is that we employ tradesman with many years experience and offer a customer care package that many other construction companies can only envy. Our objective is to ensure that our clients have their work started on time, completed on time and finished on budget. We pay attention to detail and know that good preparation will avoid many problems later. We will make suggestions on the proposed design and ask relevant questions, ultimately, this ensures that we have provided a thorough quote on the proposed works.
Construction work has always been and always will be a dangerous occupation and unfortunately, some 'disreputable traders' have further tarnished the image of this great and essential industry. We have worked very hard to ensure that our building team operate in a safe and professional manner to ensure that we serve our clients to the highest standards possible. If you are looking for a company that has the knowledge, experience and honesty to complete any building project to an excellent level, look no further than T G Builders GB Ltd.
Contact us for a free no obligation quote – our previous and current clients will testify to our excellent craftmanship and customer care standards.